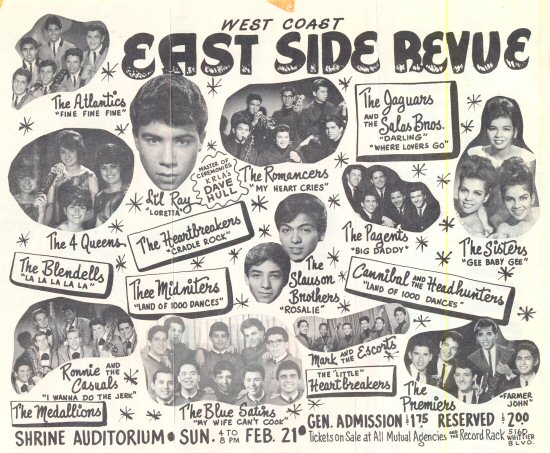 1965 Shrine Auditorium - February 21, 1965
This is a 60's Eastside Flyer from Mark Guerreros' website which has more related flyers and content.
ILLEGAL interns feat. Lysa Flores 1999 from ILLEGAL Interns on Vimeo.
The 1990 ILLEGAL Interns was an open access cable show that began improvised chats about music and featured sound from Alternative Rock and Electronica genres and then Latin America's flourishing Rock en Español scenes in México, Puerto Rico, Central America, Colombia, Argentina, etc, (Jorge Leal, @rockarchivola ).
---
At the Music Library
The Music Library subscribes to the Razorcake Zine that includes pieces about Chicanx rock. Razorcake "provides consistent coverage of do-it-yourself punk culture that you won't find anywhere else. [They] believe in positive, progressive, community-friendly DIY punk" (Razorcake Mission Statement).